Shorter treatments for a longer life
MINUTE Medical ("Molecular Internal Nuclide Therapy") offers a highly innovative treatment for prostate cancer, among others. For the first time in Austria, this therapy is carried out on an outpatient basis. As opposed to the treatments of the past, patients can avoid spending several days in a hospital; gaining quality of life in terminal situations with nuclear medicine therapy. The personal care by a highly professional team, the professional commitment and the innovative treatment method enable the best nuclear medicine treatment and good prospects of success for the patients.
Spirit Design developed the logo and the brand design, implemented the website as well as the outdoor signage and the indoor wall design.
---
Brand Design & Brand Communication
The future has begun
Radioactive radiation is generally perceived as negative; however, in nuclear medicine it is used for healing. Accordingly, a radioactive atom is used confidently as a logo for Minute Medical.
The brand design is clean, futuristic and rich in contrast. The colour palette is characterised by grey tones, with turquoise set as an accent colour.
Spirit Design designed and created the website. It provides information and insight into the course of therapy and shows the premises of the new practice. The photos were taken by photographer Katharina Schiffl, with supervision by Spirit Design.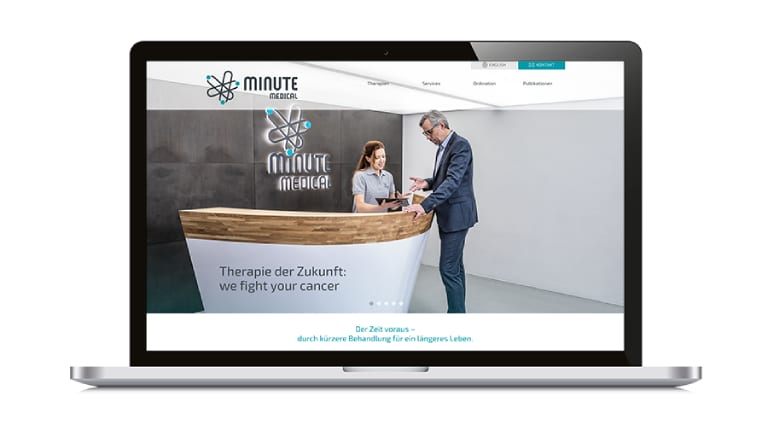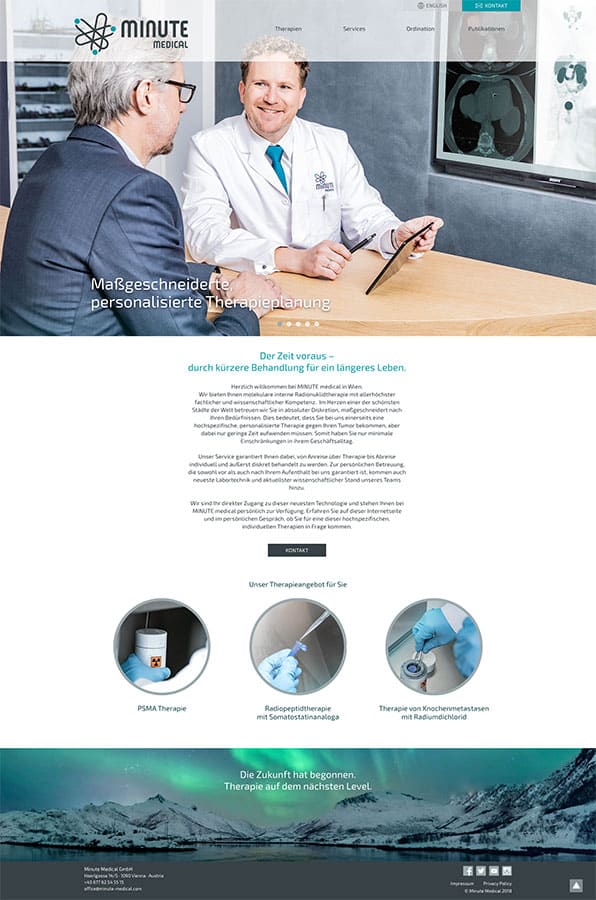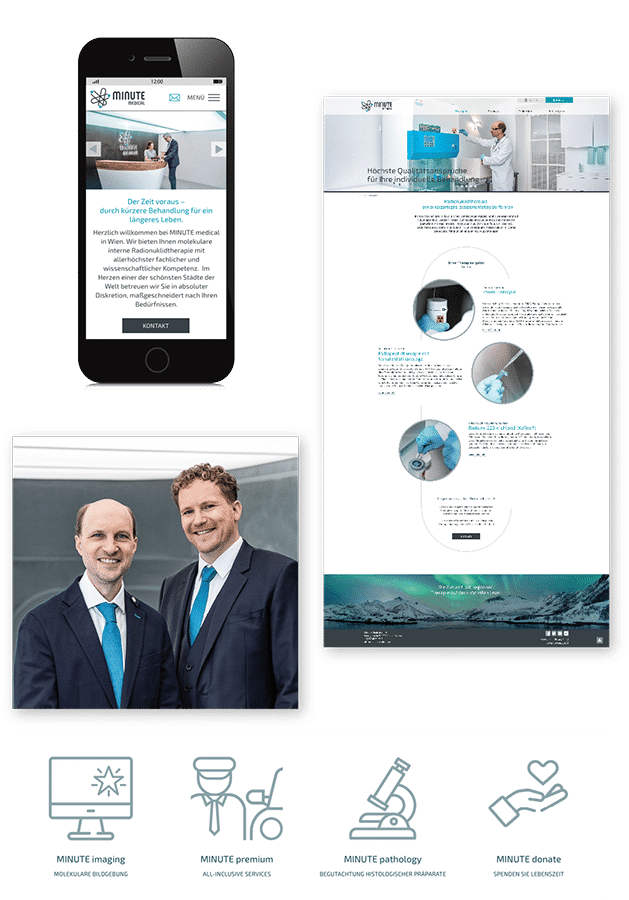 ---
Brand Architecture
Modern Ambience futuristically staged
The architecture of Söhne und Partner evokes associations with spaceships. Light plays an essential role in the rooms with rather low ceilings. Therefore, the logo is backlit in the entrance area. A luminous ceiling makes the room height appear infinite, the rough surface of the walls in the reception and waiting areas is reminiscent of the surface of a lunar landscape.
Spirit Design has designed the walls of reception and waiting areas. Transverse ellipses enlarge the room to create a horizontal effect and underline the spacy atmosphere. An image of the northern lights can be found above the treatment chair as a ceiling panel; allowing patients to wander into the vastness of space during treatment.